A new whitening technique has emerged called Deep Bleaching!
The Deep Bleaching technique is so powerful, it can whiten teeth stained from foods, smoking, age, veneered teeth that have darkened, and amazingly even tetracycline (dark) stained teeth!!
If you want a "WOW" bleaching experience, read on!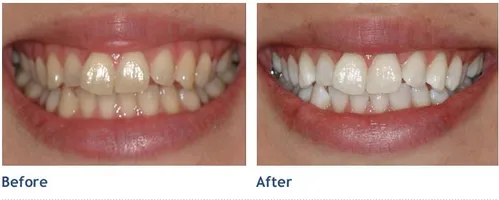 KöR Whitening Deep Bleaching is the newest, most revolutionary and effective teeth whitening system ever developed. Unlike typical teeth whitening procedures:
KöR Whitening is so effective; it is the only recognized system in the world that will even whiten tetracycline (dark) stained teeth, previously thought to be impossible.

With easy periodic at-home maintenance your teeth will stay white permanently, even while you continue to drink red wine, tea, coffee etc.

During the whitening process nearly all patients experience only low to typically no teeth sensitivity.
This procedure is comfortable and 100% safe for your teeth and gums. The result is a radiantly white, natural appearing smile that you will LOVE! It's perfect for everyone, from 14 to 90!
Deep Bleaching Procedure
Your procedure begins with an appointment to have special impressions to fabricate the Deep Bleaching trays.

The first session of Deep Bleaching will begin with a powerful 13% hydrogen peroxide solution placed into your trays to condition the teeth. This allows the tooth structure to absorb oxygen more readily during the at home portion of the procedure. You then take the custom trays home, place a 16% carbamide perioxide into the trays while you sleep for 14 consecutive nights.
Our doctors will then decide, depending on your desired results or condition of the teeth before the procedure began, a second visit will use either a 13% hydrogen peroxide soultion, or a 34% hydrogen peroxide. This will compete the procedure and finish the bleaching process by whitening the teeth more than had been already achieved. Throughout the Deep Bleaching process, you place a desensitizer on the teeth being bleached. This is one of the features that sets Deep Bleaching apart from other techniques! White teeth with little or no sensitivity!!
We are among a very select group of dentists that offers the KöR Deep Bleaching procedure.
Call to schedule a consult today!